Rothenstein may be correct when he writes in An Introduction to English Painting that nothing much changed with James I on the throne, but it certainly marked a time of transition: seeds were being sown for quite a revolution – or should I say revolutions (plural)? – during the first years of the 17th century.
For, on the socio-political horizon is the beheading of Charles I and then the Cromwell's Interregnum. Events which will affect art and artists in Britain as we'll see.
In terms of a revolution in visual culture too, seeds were planted right at the heart of Westminster under the watch of James I; they would grow strong through until the Puritan mid-century, and then bloom in the final decades of the 1600s.
*
Roy Strong notes in The Spirit of Britain that whilst James himself was not especially interested in culture, Queen consort Anne of Denmark was visually sophisticated, as were sons Henry, Prince of Wales and Charles (the future king).
As Patron of the Arts, Anne's masques, plays and revels were extravagant and exuberant affairs, huge propaganda coups with audiences of foreign dignitaries and ambassadors.
Anne also commissioned artists for portraits, including the miniaturist Isaac Oliver who we met last time as the pupil of Nicholas Hilliard.


Anne of Denmark by Isaac Oliver
watercolour on vellum, circa 1612; 2 in. x 1 5/8 in. (51 mm x 41 mm) oval
Another artist from Elizabeth's time was Robert Peake (the Elder)
who continued at Court as James's serjeant-painter alongside Oliver, and the Flemish painters John de Critz and Marcus Gheerearts the Younger. There's a fascinating sentence in the Wikipedia entry for this group of four: "Between 1590 and about 1625, they specialised in brilliantly coloured, full-length 'costume pieces' that are unique to England at this time".
Henry Frederick (1594–1612), Prince of Wales, with Sir John Harington (1592–1614), in the Hunting Field; 1603; Metropolitan Museum of Art, New York
The art historian Ellis Waterhouse suggested that the genre of elaborate costume pieces was as much a decorative as a plastic art. He notes that these works, the "enamelled brilliance" of which has become apparent through cleaning, are unique in European art and deserve respect.
I have to say I'm quite intrigued by this. We might see such 'costume pieces' as a development of Hilliard's miniatures for their colouring and details, mixed perhaps with the theatricality the court enjoyed so much (and might they foreshadow say the work of Joshua Reynolds? – to be discussed!)
That sense of scene and action in Peake's painting – whilst it's a sort of 'play acting' style that may not have lasted very long – is nevertheless a sharp contrast to portraits such as:


Portrait of Richard Sackville, 3rd Earl of Dorset (1589-1624) by William Larkin (1613)
As fabulous – indeed extraordinary, check out those shoes and carpet! – in detail as it is, this flat icon-like tradition in portraiture, so favoured by the Elizabethan court, was definitely coming to an end with the Stuarts.
Perhaps the best way of illuminating the changes to come is to look at:

this detail from a portrait of James I of England in state robes (1566-1625) by Paul van Somer[c.1620; Royal Collection], in particular what we see in the background: the Banqueting House. Another image (now at the Morgan Library in New York) reveals the starkly dramatic change this building represents: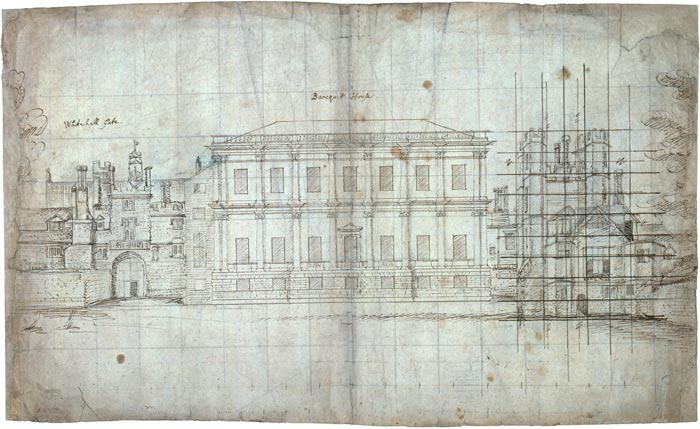 amidst the jumble of buildings that made up the medieval Palace of Westminster, here we have a classically-inspired architecture brought by Inigo Jones back from his Italian studies. Roy Strong writes of how it "must have staggered the average Londoner of the 1620s as it rose amidst the rambling Tudor red brick of Henry VIII's palace."
On the history of the Banqueting House, please visit Historic Royal Palaces.
This jump is the starting-motor, as it were, that would generate the revolution in English art under the Stuarts.
Reflecting and responding to the Renaissance developments in Europe – from which England had been isolated from Henry VIII to Elizabeth I – the Banqueting House represents a (re)turn to the classical aesthetics of Ancient Rome. After all, James I had united England and Scotland under the old Roman name of Britannia.
Moreover – and this would lead also to the political divisions ahead – this classical style signified the absolute rule of emperors, in other words, the early Stuarts presumed a 'Roman inheritance': the divine right of kingship.
*
Remember the illuminated manuscripts?
Looking at examples like this, we realise that medieval men and women were used to seeing various objects all at different angles and sizes, all of which they could negotiate and understand simultaneously.
With the turn to Renaissance classicism however, that multiplicity would gradually change. First in the theatres (1610s), then for painters (1630s), a new way of seeing was introduced by means of mathematics and geometry: perspective; the realignment of space to create the illusion of depth 'within' the picture frame.
To summarise Roy Strong (The Spirit of Britain): medieval polycentricity was disregarded for an image "in which [the subject] was placed at the centre of a unified and harmonic cosmos."
I have to put in Sir Nathaniel Bacon's Cookmaid with Still Life of Vegetables and Fruit
[c.1620–5; Tate] here
as it reveals not only the art of the Flemish still life arriving in Britain, but the skills of perspectival painting – from the fore-fronted vegetables (all apparently growing in Suffolk at this time) to the voluptuous woman in the centre-ground and so through out into a landscape scene.
It's a brilliantly eccentric painting by an apparently amateur British painter.
Within the realm of the Stuart court, that central subject of the new perspectival way of painting would be the king himself of course.
And we should note something more: the translation and reinterpretation of Baroque art (which we will look at more in depth) from the European Catholic courts of Italy, Spain and France to London where, once again, art was used to symbolise the power of majesty through magnificence.
Charles became king in 1625 and it was to commemorate his father's reign – and all it signified – that in 1629 he commissioned a ceiling for the Banqueting House from the Flemish artist Peter Paul Rubens.
Here we see James as King Solomon, uniting Britannia.
And in the central panel, the Apotheosis of James I (see Tate) in which he is carried up to heaven by Jove's eagle, assisted by the figure of Justice, with Minerva (Wisdom) overhead.
Through dramatic perspective, light, shade and colour, Ancient Roman gods and goddesses transport the king heavenwards in grand, theatrical Baroque-style.
Within the first three decades of the 17th century, we are already light years away from the art of Elizabethan England – at least at the heart of the Royal Court.
***
A History of Art in England (13)
If you are enjoying this series and are able – even occasionally – to donate, I am extremely grateful. Many thanks and best wishes!